MINERAL FOTO ATLAS
Orickite / Orickit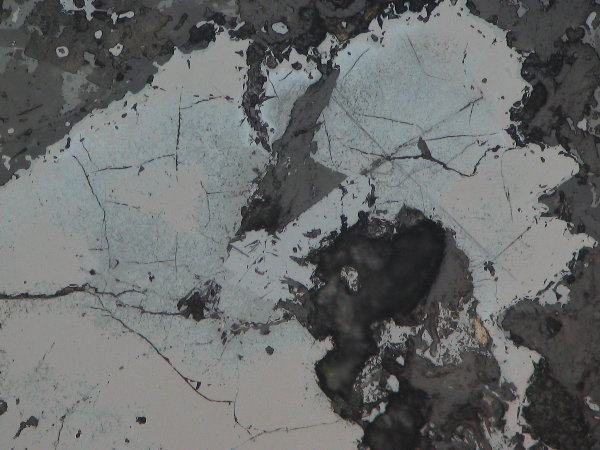 Grey crystal of orickite in brownish grey, partially altered magnetite. Polished section from microbrobe analysis, in reflected light, parallel nicols. Coyote Peak, Humboldt Co., California, USA. Picture size 0.7 mm. Collection Thomas Witzke, foto Bernhard Pracejus.

Grauer Orickit-Kristall in bräunlichgrauem, teilweise alteriertem Magnetit. Anschliff für Mikrosondenanalyse, im Auflicht, parallele Nicols. Coyote Peak, Humboldt Co., California, USA. Bildbreite 0.7 mm. Sammlung Thomas Witzke, Foto Bernhard Pracejus.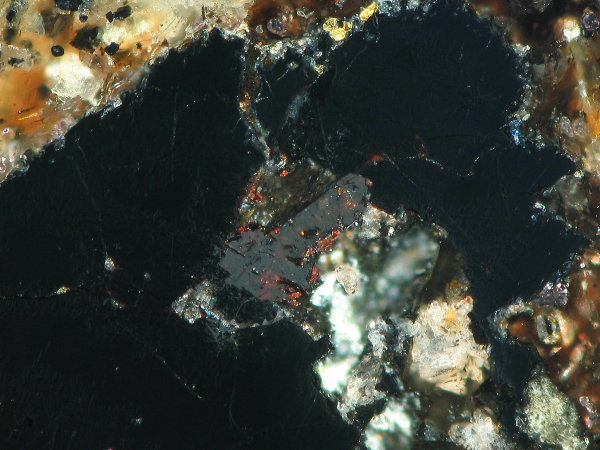 As above, but with crossed nicols. Orickite is now bluish gray with brownish internal reflections, magnetite is isotropic.

Wie oben, aber mit gekreuzten Nicols. Orickit ist jetzt bläulichgrau mit braunen Innenreflexen, Magnetit ist isotrop.



© Thomas Witzke / Stollentroll
Bernhard Pracejus (2007, in prep.): The Ore Minerals under the Microscope - An Optical Guide. Elsevier, Amsterdam.