MINERAL FOTO ATLAS
Lenaite / Lenait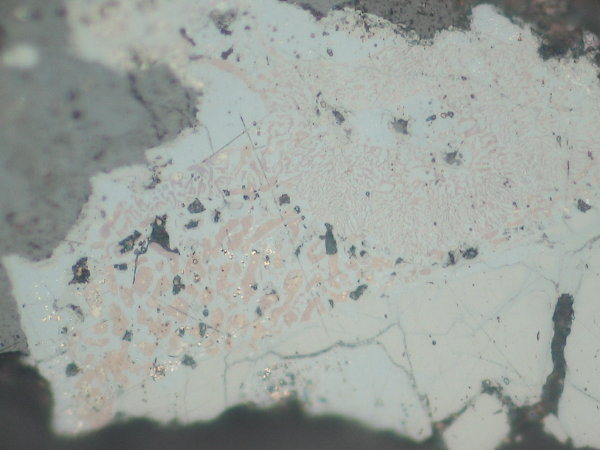 Eutectic intergrowth of violet-brown lenaite with bluish-grey stephanite and freibergite (grey with a slight brownish tint). Polished section from microbrobe analysis, in reflected light, parallel nicols. Privolnoye deposit, Central Yakutia, Russia. Picture size 0.14 mm. Collection Thomas Witzke, foto Bernhard Pracejus.

Eutektische Verwachsung von violettbraunem Lenait mit bläulichgrauem Stephanit und Freibergit (grau mit schwach bräunlichem Stich, unten mitte und rechts). Anschliff für Mikrosondenanalyse, im Auflicht, parallele Nicols. Privolnoye-Lagerstätte, Zentral-Yakutien, Russland. Bildbreite 0.14 mm. Sammlung Thomas Witzke, Foto Bernhard Pracejus.



© Thomas Witzke / Stollentroll
Bernhard Pracejus (2007, in prep.): The Ore Minerals under the Microscope - An Optical Guide. Elsevier, Amsterdam.