MINERAL FOTO ATLAS
Djerfisherite / Djerfisherit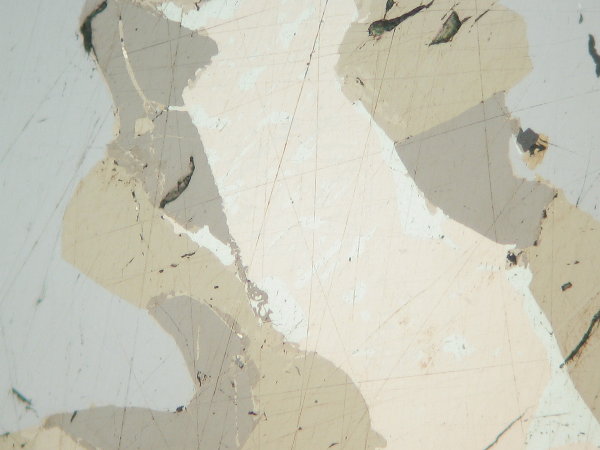 Grey djerfisherite, light bluish-grey altaite in and arround pinkish sobolevskite, with brownish chalcopyrite and light grey galena. Polished section from microbrobe analysis, in reflected light, parallel nicols. Oktryabrskaya deposit, Talnakh, Ural, Russia. Picture size 0.28 mm. Collection Thomas Witzke, foto Bernhard Pracejus.

Grauer Djerfisherit, hell bläulichgrauer Altait in und um rosa getönten Sobolevskit, mit bräunlichem Chalcopyrit und hellgrauem Galenit. Anschliff für Mikrosondenanalyse, im Auflicht, parallele Nicols. Oktryabrskaya Lagerstätte, Talnakh, Ural, Russland. Bildbreite 0.28 mm. Sammlung Thomas Witzke, Foto Bernhard Pracejus.



© Thomas Witzke / Stollentroll
Bernhard Pracejus (2007, in prep.): The Ore Minerals under the Microscope - An Optical Guide. Elsevier, Amsterdam.