MINERAL FOTO ATLAS
Daubréelite / Daubréelit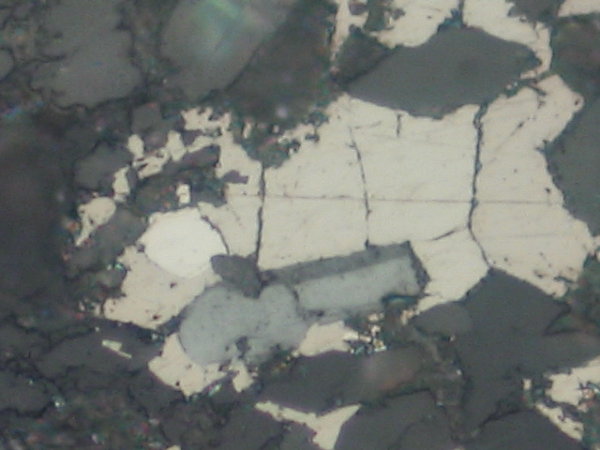 Euhedral grey daubréelite with a rounded grey grain of schöllhornite (very similar colour, left of the daubréelite), creamy schreibersite and troilite (light grey with a brownish tint). Polished section from microprobe analysis in reflected light, parallel nicols. Indarch meteorite, Shusha, Elizavetpol, Azerbaidshan. Picture size 0.057 mm. Collection Thomas Witzke, foto Bernhard Pracejus.

Ein idiomorpher, grauer Daubréelit-Kristall mit einem rundlichen, grauen Schöllhornit-Korn (sehr ähnliche Farbe, links neben dem Daubréelit) und cremeweißem Schreibersit in Troilit (hellgrau mit bräunlichem Stich). Anschliff von Mikrosondenanalyse im Auflicht, parallele Nicols. Indarch Meteorit, Shusha, Elezavetpol, Azerbaidshan. Bildbreite 0,057 mm. Sammlung Thomas Witzke, Foto Bernhard Pracejus.


© Thomas Witzke / Stollentroll
Bernhard Pracejus (2007, in prep.): The Ore Minerals under the Microscope - An Optical Guide. Elsevier, Amsterdam.